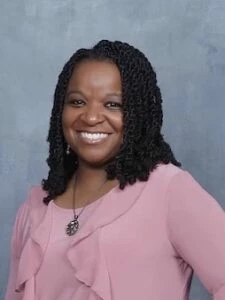 Originally from Edwardsville, VA, Mrs. Kay earned her Bachelor of Arts degree in Social Science with an emphasis in Psychology from Virginia Wesleyan College, and a Master's Degree in Education from the University of North Carolina at Greensboro. She is happily married to her best friend, Pastor of The First Baptist Church, Inc. of North Brentwood, Rev. Dr. Duane T. Kay, and together they are raising four children. She shares about ministry and family life through her blog, Our Party of Six . As a wife and mother of four, Mrs. Kay is an inspiration and guiding light to women balancing work, family and making time to faithfully serve God and study His word.
As an educator, Mrs. Kay is very passionate about Christian discipleship and education. She enjoys supporting our children and youth education.
She faithfully supports women's initiatives to empower mind, body and spiritual development; and leads outreach programs to serve our communities in Washington DC, Maryland and Virginia, including one of our most popular annual events – Missions Blitz.
Also, Mrs. Kay serves as part of the Media Ministry leading our social media campaign on Facebook, Instagram and Twitter. She actively manages the postings of relevant materials to appeal to multi-generational social media users, to promote spiritual growth and development. She enjoys working as a part of Leading and Loving It, a ministry organization that provides encouragement and support to Pastors' wives and women in ministry and leadership.
Mrs. Kay states that she never stops being amazed by the warm, compassionate, generous, loving and inclusive spirit of the FBCNB family, and how all generations are embraced for their unique contributions and gifts.